Welcome
---
Something about me ...
My name is Martin Miklánek. I was born in town Trnava in Slovakia (heart of Europe). I am 25 years old and now I have lived in small worldfamous spa town Pieštany since 1992. I was studying (1993-1998) gardening at the Slovak Agricultural University in Nitra.
---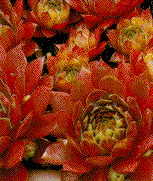 Sempervivum and Jovibarba
Sempervivum and Jovibarba (Crassulaceae) are succulent rockery plants and perennials. The genus Sempervivum contains about 60 species and Jovibarba 5 species. These alpine plants are growing on the driest soils and rocks.

---
Something about Kylie Minogue
Kylie Minogue is worldfamous australian singer and actress. She was born on 28 May 1968 in Melbourne, Victoria, Australia. I like wonderful tiny Kylie ...
* The checklist of movies and TV serials of Kylie Minogue by IMDb
---
Internet
Internet is net of nets. Internet provides almost all information of the World. Internet is very rich source of information. Thank you for granted place on the Web by Tripod Inc.

---
Slovakia - heart of Europe
The Slovak Republic became independent 01st January 1993. Slovakia lies in Central Europe between the Czech Republic, Poland, Ukraine, Hungary and Austria. Slovakia lies on extent 49 036 km2 with 5 356 800 inhabitants. The biggest and capital city of the Slovak Republic is Bratislava...

---
Welcome to Martin's HomePage at http://miklanek.tripod.com
miklanek@build.gov.sk
(c) CD 7190 Created by M.C.I, 13 October 1998 Last updated: 05 December 2000